Are you struggling with the pain of loss in your life, whether it's recent or long past the time you thought you would have it? That loss could be pain from the death of a loved one or a cherished pet, the loss through bankruptcy, or the loss of a job. It could be the loss of a relationship through divorce, illness, or addiction, the loss of not having children, or the loss of self and/or your hopes, dreams, or wishes.
Any of the situations above can spark grief. Symptoms of grief can carry on for many years after the actual loss. Grief is painful. It shows that we care and is not a sign of weakness. Grief is a natural healthy reaction but often manifests in a bewildering cluster of emotions and physical ailments. These emotions can be confusing and intensify the distress suffered from losses in one's life.
Grief Support Gatherings
If you would like help facing challenges resulting from the pain of one loss or multiple losses in your life, please signup for the Grief Journey Workshops or check in to express your interest in joining a UOUFC Grief Support Group—we may have remote and in-person meetings. Here you will find the opportunity to be with others who have been there, to receive emotional support, learn about or increase your understanding of the grief seasons/stages, and develop personalized strategies to address your losses.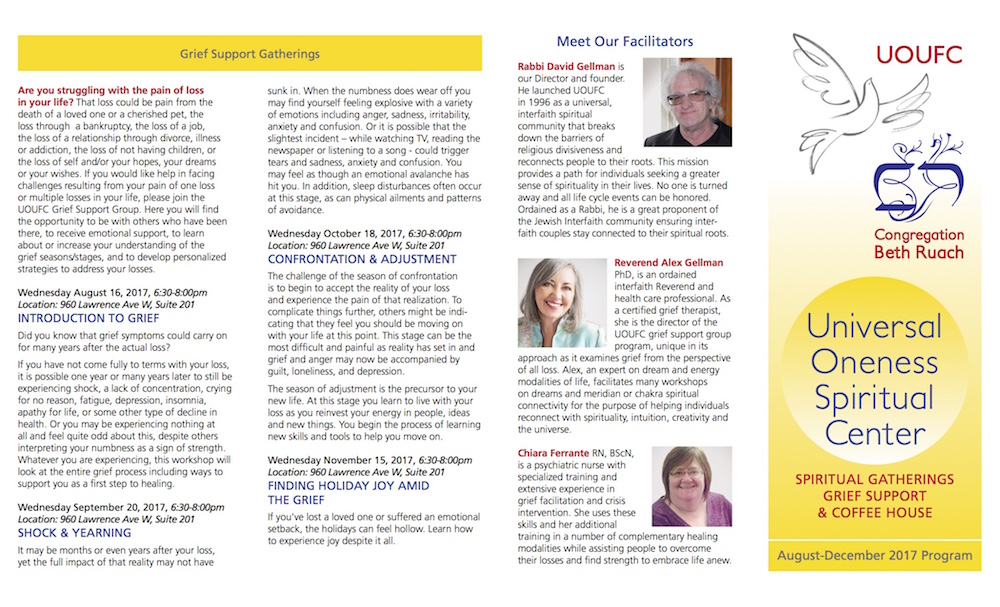 Donations & Allocation of Funds
We suggest a donation of $10 from the heart. Nobody will be turned away due to a lack of funds. The Universal Oneness Spiritual Center is a not-for-profit charitable organization (#88955 5801RR0001). All donations over $10 receive a charitable receipt. Donations of $20 or more will receive a gift.
We are proud to say that 100% of the funds donated go towards the betterment and growth of the Universal Oneness Spiritual Center and the community. All facilitators, including the Reverend and Rabbi, work as volunteers.
---
Meet Our Facilitators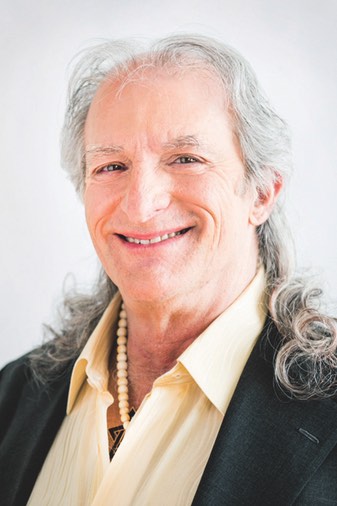 Rabbi David Gellman
Rabbi David Gellman is our Director and founder. He launched UOUFC in 1996 as a universal, interfaith spiritual community that breaks down the barriers of religious divisiveness and reconnects people to their roots. This mission provides a path for individuals seeking a greater sense of spirituality in their lives. No one is turned away, and all life cycle events can be honored. Ordained as a Rabbi, he is a great proponent of the Jewish Interfaith community ensuring interfaith couples obtain the life cycle events they seek and stay connected with their Jewish roots.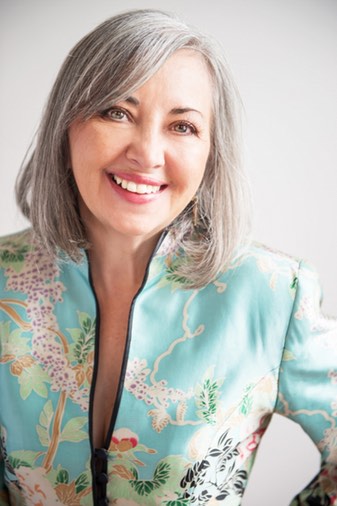 Reverend Alex Gellman
Reverend Alex Gellman, Ph.D., is an ordained interfaith Reverend and health care professional. A certified grief therapist, she is the director of the UOUFC grief support group program, unique in its approach as it examines grief from the perspective of all loss. An expert on life's dreams and energy modalities, she facilitates many workshops on goals, meridian, and spiritual chakra connectivity, helping individuals reconnect with spirituality, intuition, creativity, and the universe.
[/ezcol_2third_end]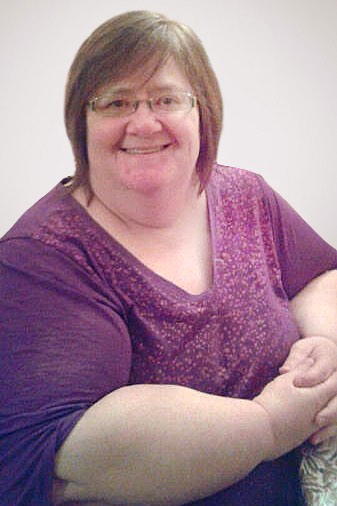 Chiara Ferrante
Chiara Ferrante, RN, BScN, is a psychiatric nurse with specialized training and extensive experience in grief facilitation and crisis intervention. She uses these skills and her additional training in several complementary healing modalities while assisting people to overcome their losses and find the strength to embrace life anew.

---
Sources of Information for Those Dealing with Grief – Books, Websites & Articles
BOOKS
 On grief and grieving: finding the meaning of grief through the five stages of loss by
Kübler-Ross, Elisabeth.Contributors: Kessler, David, 1959-
The courage to grieve
by Tatelbaum, Judy.
Take charge of your body: a woman's guide to health
5th ed.
by DeMarco, Carolyn, 1948-
* Chapter – Grief is Hard Work
Life after loss: a practical guide to renewing your life after experiencing a significant loss
5th ed.
By Deits, Bob, 1933–
The grief recovery handbook: the action program for moving beyond death, divorce, and other losses, including health, career, and faith 20th anniversary expanded ed.
By James, John W.
Contributors: Friedman, Russell.
Bereaved Families of Ontario – Toronto
https://sites.google.com/site/bfotoronto/resources/books-videos-for-sale
Healgrief.org
http://www.healgrief.org/recommended-reading