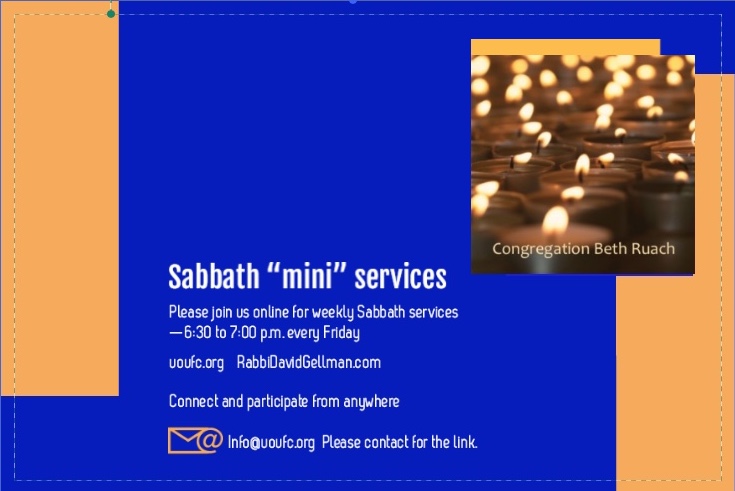 Non-Traditional Multi-Faith Services
Are your spiritual needs being met by your current religious practices? Do you question the relevance of certain religious observances when expressing your faith? Are you feeling "dogged by dogma," even though you know some ancient traditions survive because they tap universal truths still relevant today?
If you and your family are interested in a path that features sincere, non-judgmental dialogue addressing spiritual life in the modern age, you need look no farther – Universal Oneness United Faith Canada will be offering non-traditional multi-faith services on Fridays weekly online and at other regularly scheduled events/online and in-person gatherings.
These services will include participation by the congregation and provide a forum for you to make a meaningful spiritual connection in a supportive setting that promotes tolerance and understanding.
Services will draw from various ancient and modern spiritual scriptures and involve the congregation. This will be enhanced with spirit-based music.
Do explore with us the interfaith path to spiritual living. It may be just what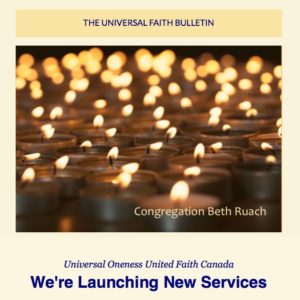 you need to revitalize and put a fresh spark in your heart. We embrace people of all faiths, and even those of no faith, certain that this journey will create more light in our world.
As in any congregation, we need and welcome volunteers. For more information or to volunteer, contact Rev. Alex at info@uoufc.org.
Click to sign up for our monthly newsletter!
Keep up to date with services and event schedules:
Calendar— SPIRITUAL EVENTS
ONLINE WEEKLY SPIRITUAL GROUP:
Meets online every Friday from 6:30 to 7:00 p.m. This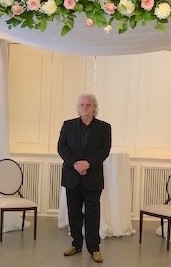 "mini" weekly interfaith sabbath service starts with three blessings—
Lighting the sabbath candles
Blessing of the wine
Blessing of the bread/challah
Prayers in English, Hebrew, or the language of your choice; prayers for the sick (people or your pets) will be included; the congregation is welcome to participate. The service concludes with an interfaith prayer. Please email, and we'll send you the link.
Please connect for signup/login details.
SABBATH TO WELCOME THE NEW MONTH:
MONTHLY—On the closest Friday to the new moon, we will honor this treasured observance with our brief Sabbath services and an exploration of the meaning of that month's coming energy. We will conclude each of these services with a short gratitude circle. Dates to be confirmed. From 5:30 to 6:30 p.m.
UPCOMING—SPECIAL SPIRITUAL EVENTS ARE SCHEDULED REGULARLY/PLEASE SUBSCRIBE TO OUR NEWSLETTER FOR DETAILS.
Please connect for details or subscribe to the newsletter/mailing list.
To help with costs—donations or online at uoufc.org are welcome!
Events listings and workshop calendars will be updated from time to time–please check back or subscribe to our newsletter for updates.
MONTHLY SPIRITUAL WORKSHOPS:
Spiritual Discovery Workshops will be held online regularly. Topics include How personality types impact spiritual observance and the Grief Journey.
Spiritual Discovery Workshops—
FULFILLMENT AND THE MYERS-BRIGGS TYPE INDICATOR-A TWO-PART WORKSHOP
Learn to use this leading personality/characterization tool to guide personal development/decisions and direction. It can help at any time of life and is helpful to gain a sense of the spiritual fulfillment approach that will serve you best.
Session 1—explore the MBTI—what it is and how it works; determine your communications style and preferred way to interact with others; complete the questionnaire process.
Session 2—examine your results and the individual components; as a group, analyze strengths/preferences/susceptibilities; how it might help, or you will use the knowledge in your approach to others/and in general.
ENNEAGRAM PERSONALITY AND ANALYSIS—IN TWO PARTS
Use this popular modern system of nine key types (based on ancient wisdom and traditions) to explore how your personality may affect your actions/spirituality and life strategies. Enneagrams are beloved by writers and psychologists/therapists and are an excellent tool for understanding the self.
Session 1—introduction and exploration of the nine basic types//how it works/complete your analysis.
Session 2—examine your questionnaire results; discuss; does it explain your past behaviors; in the future—apply the knowledge to personal growth and spirituality.
THE GRIEF JOURNEY—IN TWO WORKSHOPS.
Two workshops will discuss this painful journey, which often has no time limit, the seasons/realizations, and coping mechanisms. This is not a restructuring of our former Grief Support Group. However, we may launch this for interested participants and meet remotely.
The first week will deal with Phases 1 and 2: Grief, numbness, shock, and yearning. The second week will examine confrontation, adjustment/re-organization, and re-entry.
Please connect to signup/register or for login information on any events.
.
Guidance
In today's hectic life filled with stress, anguish, and anxiety. Relieve your stress by joining our meditation program. This three-part series discusses the Buddhist concept of mindfulness and abilities that can help you access a peaceful, easy feeling, no matter what is happening in the world around you. We recognize that it can be a challenge, and we will help you to learn how to access the pathway to inner peace anytime. This first session will teach you to create your power center, which you will use to work from in the following two workshops. The mediation series can be customized to deal with emotional traumas. Or you can relieve your stress by joining us at our sermon or workshop of the month.
Learn new skills to help you cope and connect to your higher power. Research shows that people with spirituality find it easier to trust and be at peace with themselves.